ID TECH Releases the Kiosk V Contactless Payment Reader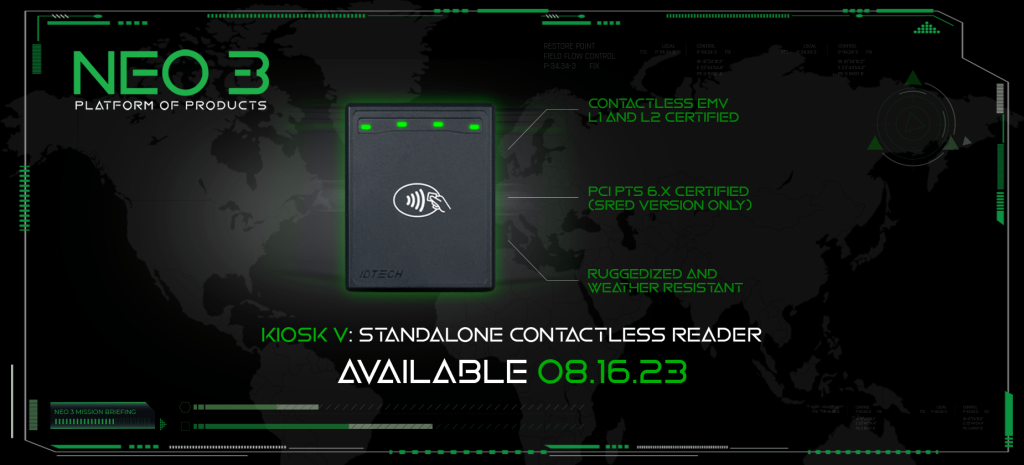 August 16, 2023.  Cypress, CA.  ID TECH is proud to announce the launch of Kiosk V contactless payment reader, the second product release of the NEO 3 Platform of Products. 
The ID TECH Kiosk V is a standalone NFC payment reader that enables merchants to add contactless payment capabilities to virtually any payment environment.  The Kiosk V has the latest contactless kernels for American Express, Discover, MasterCard, Visa, and Interac, among others, and offers state-of-the-art security with PCI PTS 6.x certification in the available SRED version.  In addition to reading all major contactless cards, the Kiosk V supports mobile payments including Apple Pay and Google Pay, as well as their respective loyalty and rewards programs.  With its robust, ruggedized, and weather-resistant design, the Kiosk V is ideal for any outdoor application, including ATMs, EV charging stations, gas stations, parking pay stations, public transit, self-service kiosks, and vending machines.  With a compact form factor and the same mounting pattern as its predecessor, the ID TECH Kiosk III, the Kiosk V is easy to integrate and implement to add the latest contactless technologies into any payment system. 
 "The launch of Kiosk V demonstrates ID TECH's commitment to providing the market with the most advanced contactless technology," said Justin Ning, VP of Product Management.  "With a kernel portfolio of over 15 different global payment kernels and growing, the Kiosk V's sleek, compact footprint and robust design makes the Kiosk V a perfect solution for self-service applications looking to deploy a contactless reader with the highest security level and latest EMV kernels." 
 The NEO 3 Platform of Products is ID TECH's next generation of payment solutions, featuring sleek and powerful products designed to serve multiple payment environments, including unattended, retail, restaurants, vending, parking, mobile, and more.  The NEO 3 Platform of Products offers industry-leading technologies and features across a consistently high-performing platform of multiple state-of-the-art payment solutions.  Featuring ID TECH's L2 common kernel, businesses that certify one product on the NEO 3 Platform of Products can adopt all NEO 3 products without having to recertify the others, effectively eliminating the extensive time and costs associated with multiple certifications for different products.   
 ID TECH's NEO 3 Platform of Products includes the AP6800 Android-based unattended payment terminal, the Kiosk V unattended contactless reader, the VP3350 all-in-one mobile payment reader, the VP6825 unattended all-in-one payment terminal, the VP7200 contactless solution with QR scanner, and the VP8810 and VP8810P countertop payment terminals. 
Please visit the ID TECH Kiosk V Product Page to learn more about this all-in-one mobile payment device and the entire NEO 3 Platform of Products. 
About ID TECH
ID TECH is a world-recognized leader in the design and manufacture of secure payment solutions, ranging from state-of-the-art contactless/NFC payment devices to EMV and Magstripe readers. For more than 30 years, ID TECH has built a reputation based on technical excellence, innovation, and a commitment to superior customer service. Headquartered in Cypress, California, USA (with additional engineering centers in Rocklin, California, Shanghai, China, and Taoyuan City, Taiwan), ID TECH is an industry leader in delivering payment solutions across the globe. 
For more information about ID TECH, please visit http://www.idtechproducts.com.