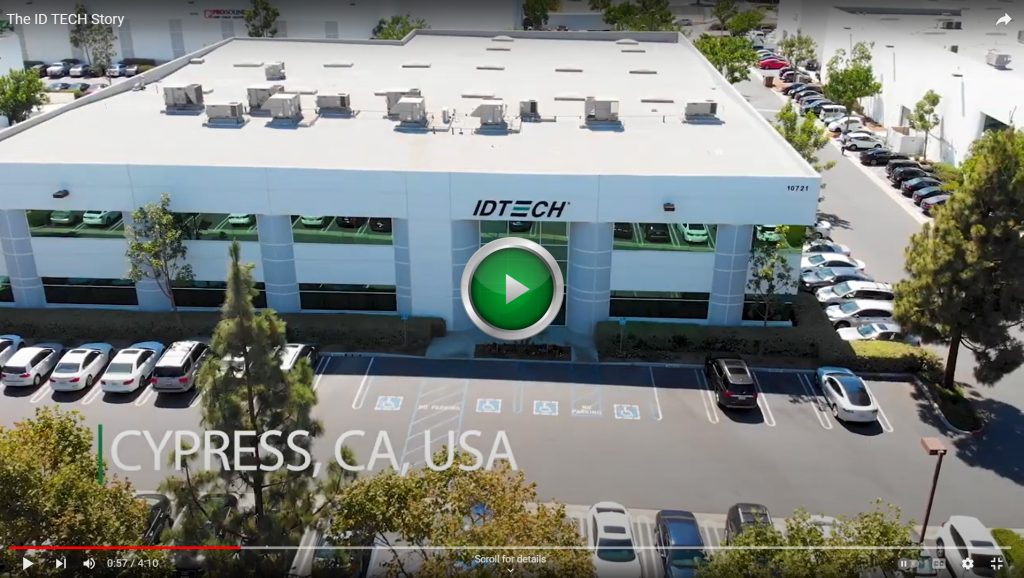 The ID TECH 2.0 Story
ID TECH has established a solid reputation in the industry as a leading payment peripheral provider with magnetic stripe, EMV contact, and EMV contactless expertise. We are also an OEM payment solution provider with the capability and willingness to customize solutions to fit our customers' needs. With a strong foundation and continued success rooted in card readers, ID TECH is currently expanding its reach in the ever-evolving payments industry.
Commitment to Be Global:
While ID TECH's footprint has spanned multiple continents with customers throughout the world, the growth of the company and vision for the future has resulted in a concerted effort to become a Globally Recognized payment leader. Based in California since its inception in 1985, ID TECH has also opened its Asia headquarters in Taiwan in 2016 with a landmark facility and state of the art equipment. This facility supports sales and engineering resources with easy access to our APAC partners.
The Taiwan office is joined by our Shanghai R&D center, which has been a staple engineering center for ID TECH for over a decade.  Also, located in Taiwan is ID TECH's own manufacturing facility, where millions of products are assembled and shipped globally to our customers.  Maintaining ISO 9001 and ISO 14001 certifications and adhering to the highest quality standards, there is a certain trust and confidence our customers have when working with ID TECH.
ID TECH has also launched development efforts to grow our capabilities and resources in Latin America and Europe. The addition of a growing sales and sales engineering teams in both regions provides for faster and more streamlined customer support to both of these focus regions. The APAC, Europe and Latin America expansion together with our California, US-based Corporate Headquarters gives us the true meaning of global coverage.
Delivering Complete Payment Solutions:
The beauty of payments is that it's dynamic and ever-changing. Payment security requirements are getting tougher, new payment technologies are emerging, EMV payments is the worldwide standard. With the complications of payment growing, merchants are looking for simpler and easier solutions. ID TECH is solving these payment complications by delivering complete payment solutions. This is reflected in both ID TECH's current product set and roadmap, which includes a strategic direction for payment devices that can host payment applications developed around core platforms that span across all product families.
With simplicity and flexibility in mind, ID TECH's Platform Design Architecture enables single integration from multiple angles, including EMV and application development, as well as pre and post-deployment services including key injection, configuration, and estate management.
ID TECH's Common EMV Kernel is the basis for many of ID TECH's EMV payment solutions including VP8800, VP8300, VP6800, VP6300, VP5300, VP3600, VP3310, VP3300, Augusta, Spectrum Pro, and MiniSmart II, and enables shared EMV certifications to our partner base.
Product Integration is streamlined through the use of ID TECH's extensive tool kits, including the Universal SDK (USDK) and ADF (ViVOapp). Customers are able to perform quick integration to ID TECH's solutions with our USDK approach or ViVOapp. Once complete, the single integration enables compatibility with other ID TECH products.
Once the integration is complete and ready for field deployment, ID TECH's customer friendly services provide for Secure Key Injection via ID TECH's certified KIF's (Key Injection Facility). Both Direct and Remote Key Injection services are available to our customer base.  In addition, the development of ID TECH's TMS solution (ViVOstate) provisions customers with direct access to their ID TECH payment devices and the ability to remotely manage their estate with the click of a button.
All of these integration and services solutions are available for ID TECH's latest line of payment solutions that cover our 4 major product groups:
Traditional retail countertop payment
Mobile payment
Unattended payment
OEM payment solutions
Unrivaled Contactless Payment Solutions:
NFC-based payments, otherwise known as contactless payments lies at the core of ID TECH's payment expertise.  With the emergence of contactless card issuance and mobile wallets such as Apple Pay, Google Pay, and Samsung Pay, the payment world is placing a major emphasis on contactless acceptance.  ID TECH stands apart from its peers from a contactless perspective. With our comprehensive portfolio of contactless products and our commitment to being on the forefront of contactless innovation, customers are able to leverage our rich contactless experience and the most complete line of contactless kernels and certifications for worldwide acceptance.
Achieving Payment Security:
Payment Security is an integral part of the payment ecosystem and is at the forefront of how we design, develop, manufacture and sell our products today. Many ID TECH's products feature PCI 5.x certifications which demand the highest levels of security. ID TECH's PCI certifications and roadmap, also include a comprehensive portfolio of SRED certifications and SCRP certifications, along with PCI certifications for our Key Injection Facilities (KIF's). Within the payment products themselves, both physical security and logical security are enabled within ID TECH's line of secure payment solutions. ID TECH makes available several encryption algorithms, including but not limited to TDES, AES, and RSA, to ensure compatibility with today's various encryption schemes.
Future of ID TECH:
ID TECH is well-positioned to continue its great success with its culture of dedication, perseverance and industry leadership. The company is focused on designing innovative, feature-rich, payment products and services and is committed to investing back into the organization to ensure long term success. As payment technology continues to evolve, ID TECH is committed to increasing security requirements and expanding methods for commerce to ensure that an exciting future lies ahead for the company.