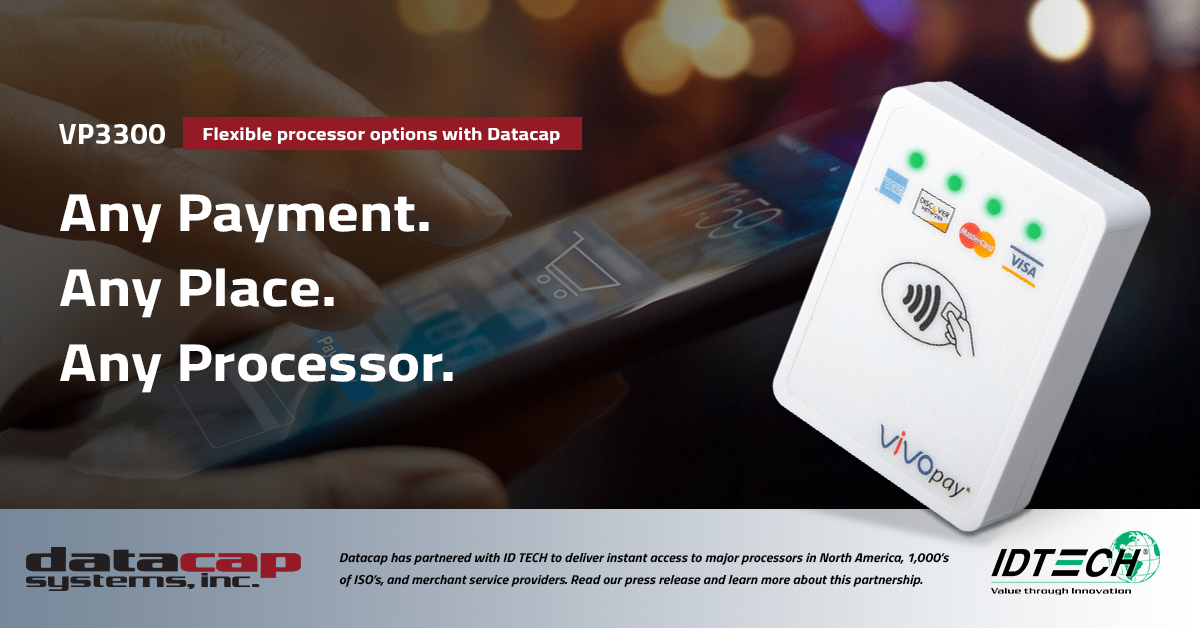 ID TECH's VP3300 Helps Bolster Mobile Payment Acceptance via Datacap's NETePay Hosted™
Cypress, CA – ID TECH, a leading payment peripheral provider, is advancing our partnership with Datacap Systems Inc., a leading hardware and processor-agnostic omnichannel payments provider, to bolster mobile payments acceptance via NETePay Hosted by adding support for the ID Tech VP3300; a compact, mobile all-in-one magstripe, EMV contact/contactless reader. The VP3300 allows new and existing merchants to create a mobile, secure and seamless experience for their customers away from the traditional fixed POS workstation. Point of Sale providers who have integrated to Datacap's NETePay Hosted omnichannel payments platform now have plug and play access to the VP3300 using Datacap's Android/iOS solutions or NETePay™ software.
"We continue to appreciate our partnership with Datacap and look forward to our mutual growth with the adoption of the VP3300 and its versatility for payment acceptance in various environments." Says Faith Longaker, US Sales Manager – Distribution & Gateways/Processors at ID TECH.
With the addition of the VP3300 to NETePay Hosted, Point of Sale providers can offer merchants a cost-effective, secure and mobile-friendly path to EMV. The VP3300 can be used as a stand-alone mobile reader (ideal for pay-at-door or fields services) or integrated directly into fixed POS terminals, unattended hardware/stands or mobile tablets. It accepts all card payment methods including magstripe, EMV contact/contactless and NFC contactless payments (AppePay, GooglePay, etc). The VP3300 can connect to Datacap products via USB or Bluetooth.
"As transactions continue to migrate from traditional in-store channels to online and mobile options, turn-key solutions for alternative payments become increasingly important for POS providers", says Justin Zeigler, Dir Product at Datacap Systems. "The addition of multi-processor support for the VP3300 provides a simple, low-cost answer for mobile and field-service payments as part of the omnichannel NETePay Hosted platform."
Merchants interested in processing omnichannel payments should contact their POS reseller to learn how Datacap's payment solutions can help with omnichannel payment processing and enhanced cardholder security while ID TECH VP3300 is a secure, EMV mobile migration device.
If your Point-of-Sale application isn't yet integrated to Datacap's omnichannel payments platform, contact them to get started today! https://datacapsystems.com/contact-us
For more information about ID TECH's VP3300, or to purchase, please visit idtechproducts.com.
About ID TECH

ID TECH is a global leader in payment peripherals, with sales, manufacturing, and R&D facilities around the world. The company has become a well-established payment solutions provider with extensive experience in data capturing and encryption products and services. Designing dependable, feature-rich products has made ID TECH a leading supplier of MagStripe readers/writers, mobile payment readers, contactless readers, smart card readers, barcode readers, POS keyboards, signature capture devices, PCI-compliant PIN pads, and other specialty products for OEMs, VARs, resellers, distributors, and key end users. ID TECH provides both standard and custom solutions to support customer requirements.
For more information, visit www.idtechproducts.com
About Datacap Systems
Datacap builds industry-standard payment solutions for Point-of-Sale providers to meet the needs of merchants in any market. Security-centric solutions for virtually all processing platforms route through dozens of pre-certified devices from leading OEMs – all via a universal payment's integration, empowering merchants to create a unified payments experience across brick and mortar, online, mobile and unattended applications. As the only channel-centric and processor-agnostic payments provider in the industry, Datacap is the ideal partner for any POS provider that's serious about building a solution that will scale to address the needs of virtually any merchant, regardless of market or payment processing platform.
Contact us to learn more! https://datacapsystems.com/contact-us