Unattended Payment Solutions: What You Should Know
Self-service or "unattended" credit card transactions are increasingly popular, not just at ATMs and gas pumps, but in a bewildering variety of other settings: pay-at-the-table terminals in restaurants,  tap-and-go public transit, airport kiosks, parking meters, vending machines, rental stations of all kinds, etc. Driven (in part) by technologies like Apple Pay and Google Pay, "self-service" has become one of the fastest growing segments of the payment industry as a whole.
But note well, to succeed in unattended payments means more than just transplanting countertop credit-card acceptance technology to a kiosk enclosure. Think about it — unattended payment devices typically operate:
Outdoors (no A/C, maybe no heat), possibly exposed to rain
In locations with poor law enforcement coverage (thus, a built-in potential for vandalism)
Where electrical power is at a premium; and/or
In remote locations where maintenance is difficult or impossible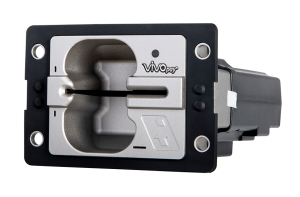 ID TECH works with customers who, in some cases, have done large deployments of unattended devices — including not just magstripe-reading devices, but chip-card readers and PIN-entry keypads — and we've found that the unique requirements of unattended operation have profound implications for the hardware that's used.
For example, in a self-service environment where there is no human attendant to say "swipe your card" or "dip your card," it can make sense to use a reader that can accommodate chip cards or magnetic-stripe cards via the same slot (a type of device we call an "insert reader"). The same device should also be dust-tight and impervious to direct blasts of water. The front face should be metal, not plastic. These features all apply to ID TECH's ViVOpay VP5300 (pictured).
Of course, if the reader is unattended, it might well spend much of its duty cycle not being used, in which case it should go to sleep, to conserve electrical power (and wake up quickly when a card is presented). This is also a feature of the VP5300, which has a sleep mode requiring approximately 500 micro-amps) as well as a super-low-power stop mode (of well under 100 micro-amps).
For security, an unattended reader should not only encrypt data on a per-transaction basis (with a unique key each time), and not contain any decryption software at all, but it should also have built-in tamper detection features that, when triggered, cause the unit not only to shut down but to erase sensitive keys automatically, so that even if it is stolen and physically hacked into, nothing remains, of any value, in terms of data or cryptograms. This type of tamper protection is built into the VP5300, which meets the stringent PCI 5.x validation requirements for SRED (Secure Reading and Exchange of Data). Because it meets SRED requirements, the ID TECH VP5300 can readily qualify for use in a P2PE (Point-to-Point Encryption) solution. But it's not restricted to usage in a P2PE environment. Any customer can use the VP5300, in any environment, and still benefit from the built-in state-of-the-art security measures.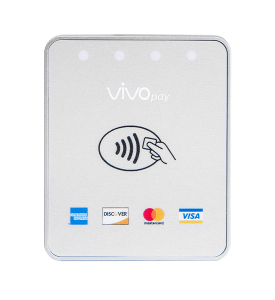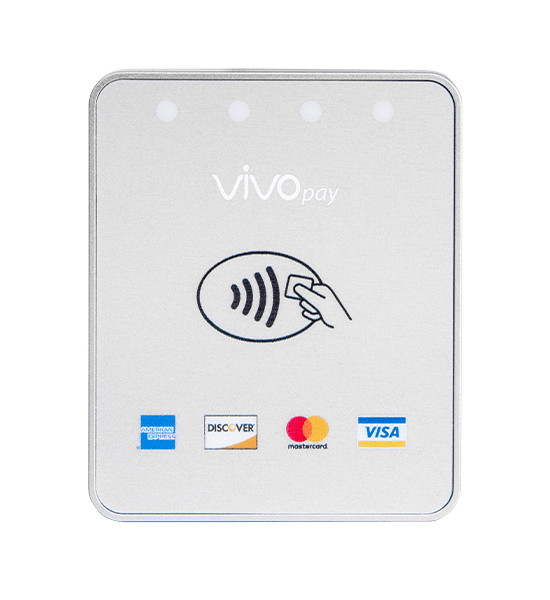 With a reader like the VP5300, you get the ability to accept chip cards or magstripe cards. But what about contactless (NFC) payments? For that, you can connect the VP5300 to a Contactless Antenna (sold separately) compatible with ISO-14443-compliant proximity cards and phones. When paired with the Contactless Antenna, the VP5300 is ready to accept all popular e-wallets, including Apple Pay, Google Pay, or Samsung Pay.
In some markets, it may be necessary to collect a PIN number from the cardholder at transaction time. For this, the VP5300 can be paired with ID TECH's ruggedized external keypad, the SmartPIN L100. Like the VP5300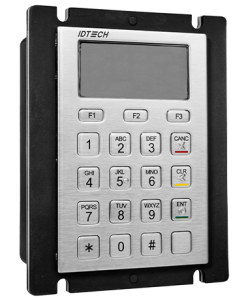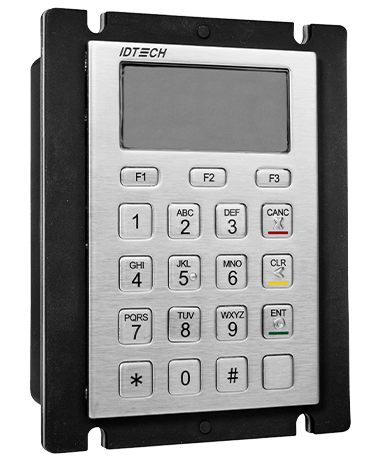 itself, the SmartPIN L100 is impact-resistant, dust-tight, water-resistant, and can operate in temperatures from –25° C to +70° C. What's more, the SmartPIN L100 (like the Contactless Antenna mentioned above) can be powered directly off the back of the VP5300; no additional power source is required. This greatly simplifies installation requirements, which can be critical in remote/compact kiosk enclosures.
The VP5300, Contactless Antenna, and SmartPIN L100 (all sold separately) allow you to deploy as much payment capability as you need, in one ruggedized, secure package, for use in unattended solutions. And at integration time, you'll be glad to know all three devices are compatible with ID TECH's Universal SDK, available for Windows, which makes development of payment apps in C# a snap.
In addition, all ID TECH devices come with a one-year warranty and free tech support from ID TECH's team of EMV-savvy experts.
We offer other unattended payment solutions, as well. In addition to the VP5300, we have the "PIN-on-glass" capable VP6800 (for vending), the PIN-on-COTS VP3310, and a complete line of OEM components, in case you need to design your own custom tablets, kiosk displays, or special enclosures.
Have questions about unattended solutions? EMV? Contactless technology? Talk to our experts! Give us a call today at 1-714-761-6368. Visit our Knowledge Base. Or write to [email protected] and request our FREE white paper on Unattended Solutions.