ID TECH has announced the release of the SREDKey 2
ID TECH, a leading manufacturer of secure payment solutions, is excited to announce the official production release of the SREDKey 2 encrypting keypad.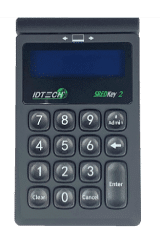 The SREDKey 2, the successor to the original ID TECH SREDKey, builds on the reputation of flexibility and dependability established by ID TECH and its line of keypad products.  The SREDKey 2 brings enhanced security by adding PCI PTS 5.x, a larger LCD for easy to read messaging, and a reworked keypad for reliable and comfortable key entry.  The SREDKey 2 is available in two different models, with and without an encrypting MagStripe reader. As a PCI 5.x certified device, the SREDKey 2 is the perfect fit for P2PE environments, call centers, and back office applications.
"The SREDKey 2 delivers superior reading performance while encrypting sensitive MagStripe and keyed-in data, helping to reduce the PCI-DSS scope and participate in a full P2PE solution," said Eric Lecesne, ID TECH's Chief Security Officer & VP of Product Management.
"The SREDKey was one of the very first devices that Bluefin provided as part of our PCI-validated point-to-point encryption (P2PE) solution and it has become one of our best-selling P2PE devices, particularly with our over 1,000 healthcare and higher education clients," said Greg Cornwell, Chief Revenue Officer, Bluefin. "We are very excited to now offer our partners and client base ID Tech's SREDKey 2 with the device's enhanced features."
Additional details for the SREDKey 2 can be located on the ID TECH website at the following address: https://idtechproducts.com/products/point-of-sale-hardware/sredkey-2/
To learn more about ID TECH's variety of mobile payment readers, point of sale peripherals, digital signage and readers please visit: https://idtechproducts.com/products/
About ID TECH
ID TECH is a global leader in the Auto ID industry with sales, manufacturing, and R&D facilities around the world. The company has become a well-established payment solutions provider with extensive experience in data capturing and encryption products and services. Designing dependable, feature-rich products has made ID TECH a leading supplier of magstripe readers/writers, mobile payment readers, contactless readers, smart card readers, barcode readers, POS keyboards, signature capture devices, PCI-compliant PIN pads, and other specialty products for OEMs, VARs, resellers, distributors, and key end users. ID TECH provides both standard and custom solutions to support customer requirements.
For more information about ID TECH, please call 1-800-984-1010 or visit www.idtechproducts.com.