RetailNow 2022: The Following Act
RSPA is a 60-year-old organization that was initially dedicated to the point-of-sale industry with membership exclusively made up of POS resellers. As of today, RSPA has transitioned to an industry association including all stakeholders of retail technology, POS, and beyond. Their mission is to accelerate the success of their members in the retail technology ecosystem by providing knowledge and connections as an industry indispensable resource.
As a long-standing RSPA member, ID TECH has always been invested in the growth of the retail sector and has recently developed and readied new high-tech countertop and mobile devices for releases starting in late fall. Similar to Jim Roddy, President & CEO at the RSPA's sentiments in his blog RetailNOW 2022 Analysis: "RSPA 2.0" Features Managed Services, ISVs, and Sophisticated VARs, we consider RSPA's RetailNOW event to be a valuable vehicle where we can take a step forward in becoming a global, full-service provider of retail and payment technologies.
ID TECH at RetailNOW
Similar to our time at Electronic Transact Association (ETA), we spent much of our time learning at RetailNOW 2022. The arrival of the pandemic flipped the retail sector on its head. Many non-essential retail stores had to shut down for months which resulted in loss of revenue, staff, and a huge focus shift to omnichannel retail strategies. However, there were some advantages to the arrival of the pandemic. As a whole, the retail sector learned that many innovative technologies and trends were quickly adapted to accommodate the world's changes.
Evolving Retail Trends
At RSPA we noticed so many upcoming changes that would deliver experiences designed for this new evolution in consumer behavior such as:
Engagement Methods have Changed:
According to Insider Intelligence, retail stores are set to experience exponential growth in 2022 for some years after. With the necessary rise of online sales over in the last few years, shoppers have become accustomed to shopping around for their purchases. As a result, retailers are investing in customer loyalty programs, sustainable products, and faster services.
Technology Upgrades Are A Must:
According to the Business News Daily, in order for retailers to remain competitive they must invest in omni-channel experiences that can connect physical and digital shopping experiences. This includes customer-friendly online and in-person store navigation and quick checkouts that mirror the online "Add to Cart" in the form of mobile solutions. The article also noted the benefit of technology upgrades extends to employees as well since newer technologies can increase efficiencies in employee work experiences.
Our "Technology Upgrade" Partner
In keeping to the latest mobile trends in hospitality, ID TECH released a mobile tableside order/pay solution with our RetailNOW booth partner, MTech Mobility.
In 2020, MTech Mobility worked with BJ's Restaurants to create a tableside order/pay solution that was durable enough to weather the fast-paced, spill prone environment of a restaurant. MTech designed a customized solution using Samsung's Galaxy Tab Active 3 tablet and ID TECH's VP3300. With long battery life, water-resistant hardware, and durable casing, the rugged Samsung tablets eliminated the need for frequent, costly repairs.
MTech designed a custom case for the devices that integrates with credit card readers, as well as a fast-charging docking station—with charge indicator lights—that enables cable free charging and reduces clutter. With MTech's mobile management services, the tableside order/pay tablets were configured with all necessary apps and MDM enrollments, then deployed across all BJ's restaurants nationwide.
"Our mobile deployment for BJ's Restaurants enabled an elevated guest experience, a simplified server workflow, expedited orders sent to the kitchen, and reduced operational costs for BJ's," said Nick Schwarz, Director of Retail and Hospitality at MTech.
Read our case study about our ultimate mobile solution with MTECH here.
For more information on how technology was impacted by the pandemic, read our blog here.
A Full-Service Provider
It's no secret that ID TECH has made strides towards having a larger national and global presence in the payment's world. We have worked hard in preparation of our next generation product release and attendees at RetailNOW were able to get a preview of what's to come.
NEO 3
Earlier in the year, ID TECH announced that we would begin releasing our NEO 3 platform of products in the fall of 2022.  The NEO 3 products are a series of dynamic, ruggedly designed products that can be seamlessly integrated into multiple industries and environments.
RSPA attendees were able to see our sleekly designed NEO 3 products along with fully customized, operational demo units that showed our products integrated into multiple unattended payments environments. Any attendees that visited our booth were able to interact with our future facing devices with the tap, swipe, or insert of their phones or test cards.
For more information on ID TECH's NEO 3 platform of products, please visit our NEO 3 webpage.   
Concierge
If you visited us at RSPA then you may have noticed our new product preview, Concierge. Concierge is a software payment solution that enables customers to remotely manage and control their ID TECH devices from any internet hosting system. With Concierge, customers can monitor device activity, monitor device statuses, support remote updates, and also support device maintenance. Concierge can also do remote updates such as loading digital videos and displays, remote configurations and firmware updates, and estate definition and management.
"Concierge is an estate management system that enables users to track their device's data, perform mass updates, set up media preferences, and remotely download applications onto host devices," said Yvonne Ning, Senior Product Manager. "Its upcoming release is huge because it propels ID TECH into becoming a full-service provider."
For more information about Concierge, click here.
What's Next?
In response to navigating the changing tradeshow landscape, ID TECH's presence at in-person events has adjusted as well. 2022 has been a big year for ID TECH with us debuting our largest booth, a new catalog of products, updating our branding, and evolving our company further into future. For 2023, we still plan on developing our tradeshow presence, unique branding concepts, and innovative product releases.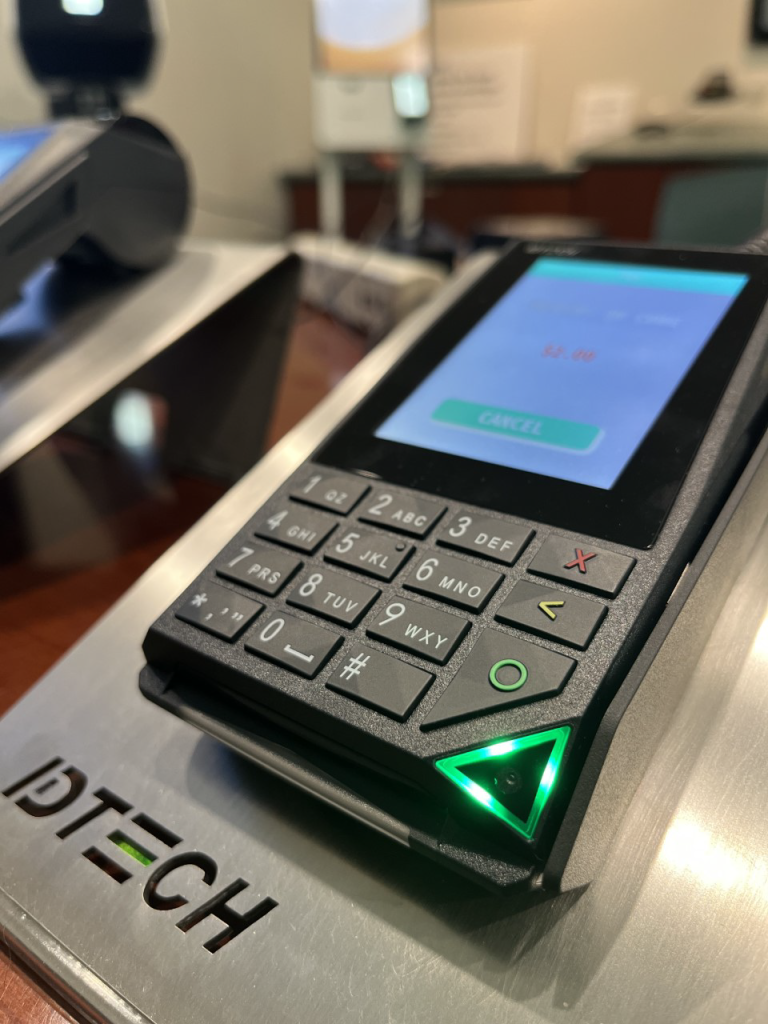 "It's an exciting time for the payments industry as we get back to in-person tradeshows, and it's an especially exciting time for ID TECH with all of the new products we are preparing to release.  It was great to showcase our NEO 3 product line at RetailNOW, and we look forward to continuing to exhibit our newest products, technologies, and services at more shows in the near future," said Lance Ning, VP of Marketing.
Thank you to everyone we met at RetailNOW 2022; we look forward to reaching out to you in the future or seeing you at other shows. We'd also like to thank our partner, MTECH; we appreciate them sending us their Infinity Series tablet to display at our booth. Lastly, thank you to our amazing staff members who came together and made RetailNOW 2022 another tradeshow success.
For more information about the other events ID TECH will be attending, click here.  
For more information on ID TECH's NEO 3 platform of products, please visit our NEO 3 webpage.   
About ID TECH
ID TECH is a global leader in payment peripherals, with sales, manufacturing, and R&D facilities worldwide. The company has become a well-established payment solutions provider with extensive experience in data capturing and encryption products and services. Designing dependable, feature-rich products has made ID TECH a leading supplier of MagStripe readers/writers, mobile payment readers, contactless readers, smart card readers, barcode readers, POS keyboards, signature capture devices, PCI-compliant PIN pads, and other specialty products for OEMs, VARs, resellers, distributors, and key end-users. ID TECH provides both standard and custom solutions to support customer requirements.   
For more information, visit www.idtechproducts.com.