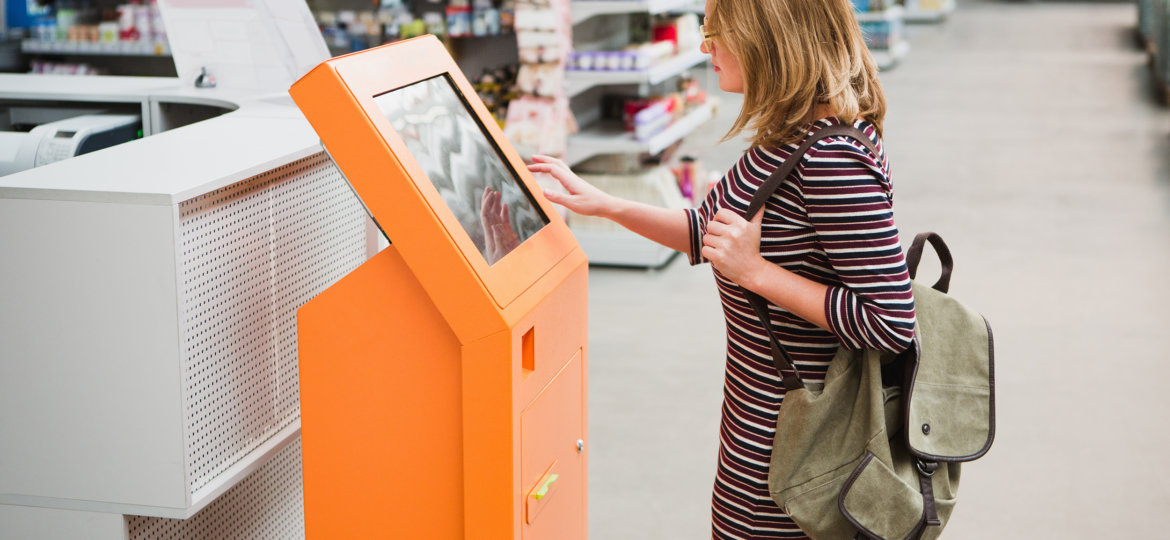 Payment Kiosks in 2019
It's a new year so perhaps we should discuss what to look for in the coming year and what to look for in kiosk hardware.
What's ahead in 2019?
Today, individuals by using a self-service interactive payment kiosk can take full control of their payments. Touch payments are one of the most popular device integration choices within a kiosk, allowing you to tap and go!
Biometrics
Biometrics may seem new, but the technology has been around since 2005. Those with iPhones have had the ability to unlock their phone with their fingerprint for a little over five years now. So the possibility to make the leap to a biometric finger option to make payments is not so far fetched. Since finger veins are unique, this is an extremely secure way to make payments.
Face recognition
Face recognition technology is an added means of security that's easy-to-adopt by users. Beginning in 2019, facial recognition payment systems will start to make an appearance on interactive payment kiosks. It is a quick payment solution, and it eliminates the need for users to remember their password to authenticate who they are.
PIN on Glass
This term refers to the ability to accept a consumer's PIN number on "glass" such as a touch screen phone or tablet. This method works just like chip and PIN devices but it eliminates the need for an expensive terminal.
For small business owners, this is a boon since it is a cheaper solution. For a payment kiosk, the benefit of PIN on Glass is a much safer payment method.
Under the Payment Kiosk's Hood
This may sound a little strange at first. But the next time you get a chance to "kick the tires" at a vendor's payment kiosk or maybe a trade show, check to see how the components are placed and connected. The wiring should be organized cleanly inside the kiosk. if so, then you can tell the manufacturer has taken the time to consider the layout.
The vendor should be able to provide detailed specs on such components as the credit card reader, monitor type, touchscreen, and so on. When issues arise or if things aren't working quite right, it is crucial to have a detailed list of your hardware.
Another important factor to look for is how easily can repairs be made? It is helpful if the components consist of off the shelf items that can be easily and quickly obtained. If a payment kiosk uses proprietary components, then you are facing either an expensive repair call or even having to ship the unit back to the manufacturer. Downtime is critical to your ability to generate income.
Payment Kiosk Hardware
Here are some hardware components you should consider when purchasing a payment kiosk:
Credit card readers
First, let's look at Kiosk IV from ID TECH.  It is a small, compact unit with NFC contactless solution capability. It has the latest specs for contactless and mobile wallet technologies. The device supports:
AMEX ExpressPay
Visa VCPS
MasterCard MCL
Discover DPAS
Apple Pay and Apple VAS
Samsung Pay
Google Pay and Google SmartTap 2.1
The rugged Kiosk IV is ideal for all environments because it has a wide temperature range.
SecureHead, as the name implies, is a secure MagStripe Read Head Module. The encrypting SecureHead uses ID TECH's state-of-the-art TriMag III ASIC. This allows the read head to have its electronic component embedded in the read head itself. In addition to performing magnetic stripe data decoding, TriMag III has the capability to use a microprocessor to handle encryption and communications for multiple interfaces. Also, the SecureHead has a built-in encryption engine that supports TDES and AES encryption with DUKPT key management.
Another credit card reader from ID TECH Products is the MiniSmart II EMV L1/L2 Certified Contact Reader Module for OEM Integration.  The internal credit card reader has a compact form factor, along with the familiar supported interfaces of USB, UART, and RS232. The MiniSmart II seamlessly meshes with today's payment applications requiring EMV acceptance. Because EMV has become accepted as an international mobile payment standard, the MiniSmart II's compact size has made it a good choice to integrate into kiosks that have a space-limiting application.
Bill Payment Kiosks
So now that we have discussed what you should look for as far as kiosk quality and components, here is the reasoning behind the implementation and use of turn-key kiosk systems.
Financial statistics from the FDIC report that 6.5% of households in the United States are "unbanked", which amounts to 8.4 million households. Furthermore, 18.7% are "underbanked" – which means they have a bank account but also make use of alternative financial services outside of the banking system. This can be cash wire services like you see at Walmart for example. This need to service this demographic means that self-service bill payment demand is continuous.
How Can a Bill Payment Kiosk Benefit Your Business?
Using bill payment kiosks is a cost-effective way to deliver repetitive transactions, such as cash, credit card, debit card, or check. Self-service kiosks mean there are lower staffing and overhead costs which can reduce the employee headcount or allow them to be used more productively performing other tasks. Providing bill payment kiosks generates improved customer satisfaction for customers; they provide secure, encrypted transactions.
Additional benefits may include:
Real-time credit/debit card payment processing
Confidential information encryption during transmission and authorization
Visa™, MasterCard™, American Express™ and Discover™ credit card processing
Visa and MasterCard signature debit processing
Cash processing through an integrated cash acceptor
Commission deposits directly into your bank account
Complete transaction reports
Customer chargeback, refund, and return processing
Increased sales volume with flexible payment options
More revenue from increased transaction rates
Faster and more efficient credit card processing
Reduction of inaccurate transactions and employee errors
How Can a Bill Payment Kiosk Benefit the Customer?
A kiosk can provide total payment flexibility and real-time confirmation for same day and last-minute payments which allow consumers to avoid fees, service interruptions, and re-connect fees. A bill payment kiosk also provides a multilingual user interface as well as easy access, faster service, and extended hours.
What to look for in software?
Basic bill pay features should include:
A Transaction feature collects the transaction and bill ID, amount, payment method, cash denominations, and so on. Data is sent to the payment processor. Payments can be processed with a client-preferred processor.
An Authentication feature maintains unique machine, data, user, and kiosk credentials in order to provide an audit trail.
A Licensing feature enables license users to receive automated pushes of new application features and functionality remotely which eliminates the need for on-site service.
A Remote Monitoring feature enables the ability for real-time alerts and status visibility as it relates to connectivity, application, and components.
A Hardware feature enables IoT signaling from components within the kiosk which maximizes up time. Further, it provides the capability for seamless hardware integration of new components during development.
Bill payment kiosks are the latest innovation in enabling customers to make payments just about any time or anywhere. This can ensure customer satisfaction and guarantee repeat business as well.
ID TECH is a leading payment peripheral provider with magnetic stripe, EMV contact, and EMV contactless expertise. It was established in 1985 in California and it opened its Asia headquarters in Taiwan in 2016. For more information about its mobile transaction payment product, visit https://idtechproducts.com/products/mobile-payment/